Over the past few years our student membership has been growing and at last year's AGM our first ever Student Representative, Bethany Johnstone, was elected as a Trustee. To recognise the contribution our student members make to APAC and the sector, at the end of last year, we held our inaugural Student Showcase online to give our student members a platform from which to share their research in performing arts heritage. Below, in their own words, our student members share summaries of the research they kindly shared with us.
Amelia Brookins | (@VestisEsLibris)
Suited and Sorted: Costume Houses as a Reflection of Information Organisations
The purpose of my dissertation research was to examine the processes of costume rental houses from the perspective of information organisations, such as libraries, archives and museums. Costume houses are businesses which assist in costuming film and theatre productions. They store, organise, and maintain a broad range of period costume available for rent. Alongside these rental collections, many of the costume houses also have archive and library collections. The main costume houses investigated by this research were Angels Costumiers, Cosprop, Western Costume Company, Theatrekunst and Tirelli Costumi. Although literature has been published on the history of costume houses and on costume collections in museums, there appears to be a lack of research discussing the processes within the collections of costume houses. Therefore, to gather the evidence needed for my research, I interviewed employees of three different costume houses. These interviews revealed how costume houses reflect the information organisation processes of supporting users, classification and cataloguing in databases.
Costume houses are very similar to information organisations in how users access and use collections. The rental collections in particular are utilised like a library. Users select materials to check out, often with the assistance of a costumier, who functions like a reference librarian. For rental collections at costume houses where there is not this level of reference interaction with the users, access to collections differs. Without clear guidance and assistance from staff, users are often intimidated by accessing the costume house. This is very similar to the phenomena in libraries referred to as "library anxiety" in which users refrain from asking for help so as not to be seen as unknowledgeable. This limit on accessibility to rental collections in costume houses directly applies to how the collections are arranged or classified.
Classification was the next area of analysis in my research and possibly my favourite. The resources in the rental, archive and library collections in a costume house are all used for the purpose of costuming characters in a production. Therefore, the classification of costumes and costume materials in each of the collections should facilitate finding these resources. However, I discovered that this is not always straightforward and varies between costume houses. As with library resources, each costume has several different attributes and the importance assigned to each attribute determines the order in which the costumes are arranged. In libraries, this is called a "citation order". The classification used in the rental collections of costume houses seems to be hierarchal in structure, which means there are smaller subcategories within each section. The top three levels are usually gender, period and type. Unfortunately, the citation order is not always consistent at some costume houses. An example an interviewee gave was "cocktail dresses from the 1950s will be first under the 1950s, then in cocktail dresses. Whereas, evening gowns are all on one aisle, as a type, and then grouped by period". This inconsistency is ill-advised from a library perspective, as it leads to users being unable to predict where they can find resources. A few solutions from information organisations are discussed further in my research, such as finding aids and labelling. A couple of the interviewees acknowledged this challenge and commented on how personal knowledge of period costume is often relied upon to restock costumes in the absence of proper labelling. Although similar challenges are present in information organisations, information organisations strive to counteract these challenges through cataloguing items in a database.
The final section of my research looked at the cataloguing that is or is not done within the collections of a costume house. Similar to information organisations, lack of time and staff are among the contributing factors for the overwhelming amount of backlog in thoroughly cataloguing costume rental collections. I got several tongue-in-cheek responses from my interviewees when I asked about using a database for their rental collections. My favourite was an interviewee who explained that despite the long-term benefits, the "mammoth task of inputting the data" would be very painful and "makes one feel quite ill at the thought of it". Nevertheless, some costume houses do use databases, though there is discrepancy between how useful the cataloguing of the collections is seen to be. Overall, my research concluded that despite the challenges of cataloguing large collections of costumes, the efficiency of the business would be improved in many areas, including the accessibility of their collections to their users.
Through my analysis of the rental, archive and library collections at costume houses, I made some recommendations for how valuable functions of information organisations can be further implemented. My research illustrates how the application of information organisation processes outside their traditional scope can improve the function of businesses such as costume houses. This dissertation was recently awarded the 2022 Sherif Student Prize for outstanding research project and I hope to publish portions of the research in the near future.
Anouska Lester | University of Roehampton | @MrSoupSpoon
Here Be Griffins: Reconstructing the Performances of the Sixteenth Century Norwich Grocers' Play
My research considers how live performance is archived, focusing on the materials, costumes, and props of early modern England. We might think about how recordings, photographs, costume bibles, and show reports all preserve different elements of performance, but are fundamentally different in nature to performance itself. This becomes more complex when we think about sixteenth-century performance, for which far fewer records exist. Not only are there no recordings or photographs, it's also rare to have multiple documents relating to the same performance.
In my presentation, I examined this phenomenon through the documents of one particular play: a sixteenth-century mystery play known as the Norwich Grocers' Play, which tells the story of Adam and Eve. In my thesis, this play appears in a chapter on fruit, in which I think about performance and consumption, early modern trade networks, and product placement. In my presentation, I focused on a figure which does not appear in the play itself but is part of its architecture: a griffin that perched on top of the pageant wagon on which the play was performed.
It has been suggested that the same craftsmen who carved these roof bosses participated in Norwich's mystery cycles.
The griffin was the emblem of the Grocers' Company, so its position on top of the pageant wagon advertises and identifies their play. They performed throughout the sixteenth century and the accounts indicate that the griffin is in constant use, with regular payments for mending and re-painting.
Once mystery plays became unpopular, the pageant wagon was abandoned and gradually deteriorated. As a result, the griffin doesn't survive today. We know about it from a set of accounts in Norfolk Record Office, which were collected by the antiquarian John Kirkpatrick. My research thinks about how the griffin and the performances it was part of are mediated through these documents. But as it turns out, the sixteenth-century manuscripts are lost, and are themselves mediated through nineteenth-century transcriptions. And since I've not yet been able to visit Norfolk Records Office, these transcriptions are further mediated through digitisation. The mediation that characterises how we access performance is just as visible in the records themselves.
Erin Lee | Royal Central School of Speech and Drama | @wee-bookworm
Developing the National Theatre Archive
My PhD is based at the Royal Central School of Speech and Drama and focuses on how we archive the development process at the National Theatre, where I am Head of Archive. The 'development' phase is the workshopping phase with our New Work department before a play is definitely slated for production. This phase can last for anything from 2 years to indefinitely and we currently do not have much by way of documentation in the NT Archive. I have found during my role at the NT that there is very little guidance for or written by performing arts archivists about how to develop or manage their collections and this is what drove me into a PhD in the first place.
I have spent some time studying researchers' areas of interests in the NT Archive specifically and in theatre collections more generally internationally. This research has included interviews with archivists around the world, a literature review, audience segmentation and an in-depth audit of the NT Archive collections. I have concluded that researchers are interested in the decision-making process of producing a play and in the audience engagement including marketing. I am going to focus on the former in my PhD and will be embedded with the development of a production at the NT from first reading through development, rehearsal and onto stage.
I intend to produce workflows within the NT to better document the development phases alongside a discussion paper for APAC on how we can develop best practice on this within the sector.
Paul Roberts | Central School of Speech and Drama | www.blurredaroundtheedges.co.uk
Staging Professionalism: The Technical Professionalisation of Post-War British Theatre
My doctoral research examines the professionalisation of technical practice in post-war Britain, particularly during the rise of civic and subsidised theatre building, as an emerging standardisation of expert labour incorporated new and influential representative bodies. I tell this story across a range of areas, including architectural design, specialist stage machinery, interconnected networks, labour, archives, and the role of civic subsidy in British theatre.
My primary interest is in the influence of the Association of British Theatre Technicians (ABTT). I argue that the ABTT was central to professionalisation, and, as a result, backstage labour came through increasing forms of regulative governance. By revisiting the archive, I show how the ABTT substantially influenced new models of standardisation, particularly in its formative years, 1961 – 1985. Responding to growing contemporary interest in technical theatre and labour professionalisation, I provide a new discursive framework, contextualising and historicising debates on the politics, governance, and power of change. This is achieved by exploring the role of theatre as a civic structure and the influence of technical professionals in the architectural design of modern playhouses. I go on to analyse an emerging network of representative bodies and the evolution in post-war stage design they shaped through technology, standardisation, and a bifurcation of labour. My thesis ends by discussing the politics and Politics of a professionalised industry, the development (and breakdown) of stakeholder relationships, and the impact of a rising neo-liberal state. I present the retelling of a technical story that remains, at best, a footnote in our current understanding of post-war British theatre history.
Posted: Sunday, April 3rd, 2022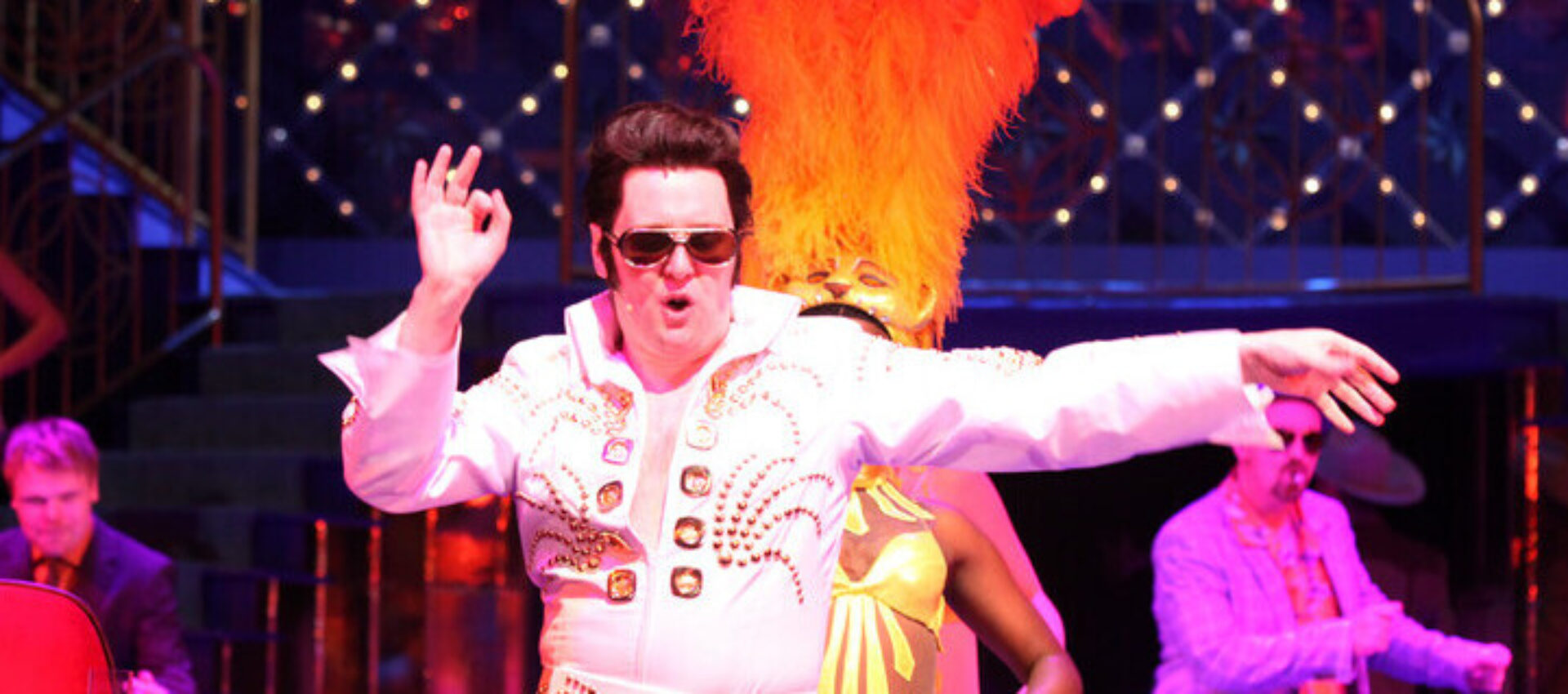 Gallery
What connects our members' collections? Here we put a spotlight on some of the curious themes that tie us together.